Wedding Bouquets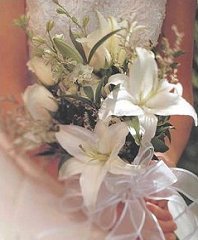 Brides-to-be receive the highest quality, professional design and customer service at Awesome Blossoms. We tailor our services to your individual needs, as well as giving special attention to details that create weddings to remember.
We can create a personalized look by adding embellishments to your bouquet & bouquet handle with sparkling touches and accents, like crystals, pearls, berries, butterflies, rhinestones, fruit, feathers and almost anything else!
Call Awesome Blossoms for ideas that will make your dream wedding day memorable.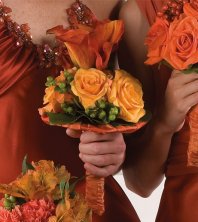 The color of the bridesmaids' dresses is very often a starting point in planning the color harmonies for all your wedding flowers, and we can offer several suggestions as to how the color may be best utilized throughout.

For example, the dress color may be repeated in the bridesmaids' bouquets, or it may be the basis of a contrasting, complementary color harmony.

At Awesome Blossoms, we create designs to accent the color and style of any dress in any setting...from casual to formal, chapel to cathedral.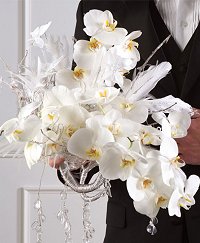 At Awesome Blossoms, we have a staff of professionals you can depend on to help you choose a bouquet that's right for you! Our talented designers are skilled in creating traditional bouquets, as well as modern cutting-edge styles in bridal and wedding flowers. Our consultants will help you select and create a floral statement perfect for your dress and personality.
Browse our selection of wedding and bridal bouquets from lush, classic and traditional bouquets to modern, cutting-edge styles in bridal and wedding flower designs.