Wedding Party Flowers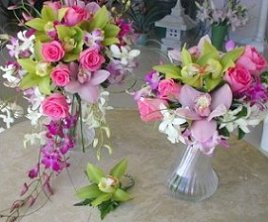 Your wedding day will be one of the most important days of your life, and your flower and bouquet choices require careful consideration. At Awesome Blossoms, we take special care to ensure your Wedding Party Flowers reflect your individual style and budget.
Make a list of the members of the wedding party and the other people who will be participating in the wedding. Besides the bride and groom, this list should include the maid of honor, the other bridesmaids, the best man and other groomsmen, the flower girl and the ring bearer, if any. Along with parents, grandparents, etc. these are all people for whom bouquets, corsages or boutonnieres should be provided.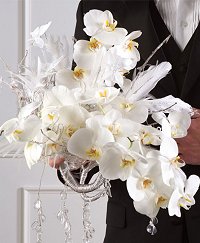 At Awesome Blossoms, we have a staff of professionals you can depend on to help you choose a bouquet that's right for you! Our talented designers are skilled in creating traditional bouquets, as well as modern cutting-edge styles in bridal and wedding flowers. Our consultants will help you select and create a floral statement perfect for your dress and personality.
Browse our selection of wedding and bridal bouquets from lush, classic and traditional bouquets to modern, cutting-edge styles in bridal and wedding flower designs.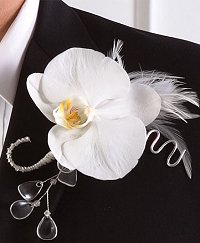 Beautiful Boutonnieres ~
Take cues from the bridal bouquet when selecting flowers for boutonnieres. Incorporate a few of the same flowers and similar colors to tie the floral pieces together.

Special Corsages ~
Choose a corsage that best represents the woman who will be wearing it. Corsages are usually worn by the mothers and grandmothers of the bride and groom and can be made in many different styles with many different types of flowers.